Health Professions Advising Center
Joint Admission Medical Program
About JAMP
The Joint Admission Medical Program (JAMP) is a special program created by the Texas Legislature to support and encourage highly qualified, economically disadvantaged Texas resident students pursuing a medical education.
Funded through the Texas Higher Education Coordinating Board, JAMP is a unique partnership between eleven Texas medical schools and seventy public and private four-year undergraduate institutions.
Since 2003, JAMP has been helping Texas students achieve their dreams with guaranteed admission to one of the state's eleven medical schools, financial, and academic support to help them get there, and access to resources that allow them to excel.
JAMP provides
Support through undergraduate scholarships and summer stipends
Placement into JAMP Summer Internship experiences
Hands-on experience through clinical enrichment opportunities
Comprehensive, multi-phase MCAT preparation program
Personal and professional development through dedicated mentoring
Scholarships to attend medical school
Additional details about applicant eligibility can be found on the main JAMP website.
UT Dallas students interested in the program should contact Ms. Shirley Anderson (Shirley.anderson@utdallas.edu) or Ms. Jeanna Kirk (Jeanna.kirk@utdallas.edu)
2021-2022 JAMP Students
Junior JAMPers
Alec Stover
Alec Stover is a junior majoring in Biology and calls home The Colony, TX. Stover is involved with the Molding Doctors organization on campus and a part of their fundraising committee. Stover is also a member of TeleHealth Access for Seniors, a national organization, to help collect and donate devices to provide telemedicine access to local clinics. Stover has completed the EMT course at UTD and received his EMT license. Outside of school Stover enjoys going to the gym, playing video games, playing volleyball, playing spikeball with friends, and eating good food. Stover's favorite part about JAMP has been the internships because he was able to learn about many interesting topics, speak with many physicians, and meet a number of great people. Everybody in JAMP is so supportive and he loves being a part of the community. An interesting fact about Stover is that he played baseball since he was five and all the way through high school.
Favorite Dessert: cheesecake with strawberry sauce
Favorite Candy: reeses cups
Favorite Color: darker blue
Passions: I would like to be able to get to know the JAMPer's more. I think getting together often to do things like eating out, bowling, etc would be fun to do.
Alejandro Coronado
Alejandro Coronado is a junior majoring in Neuroscience from San Antonio, Texas. Currently, Coronado is involved in the Neuroscience Student Association and an active member of Delta Tau Delta. Coronado's favorite part of being in JAMP is being able to talk to physicians during the summer internships and gain insight into what life as a doctor is. One thing that Coronado took away from the meetings with physicians is that they open up about the difficulties that they also went through during undergraduate and medical school. He values the reassurance and motivation this provides for students. This is one of the many reasons Coronado is grateful for JAMP. An interesting fact about him is that he can play the guitar.
Favorite Dessert: chocolate cake
Favorite Candy: reeses cups
Favorite Color: blue
Passions: music
Alexus Nguyen
Alexus Nguyen is a junior majoring in Healthcare Studies from Dallas, Texas. She is currently the Founder/CEO of the Underrepresented Students Society (USS), an international student-led, nonprofit organization dedicated to raising awareness and shedding light on the struggles underrepresented students face. Through her leadership in the organization, she helps provide free and accessible resources such as educational workshops, guest speaker spotlights, mentorship and study programs, and a podcast called Archives of Humanity to students across the world in order to raise awareness about the disparities in society.
Alexus also teaches a Freshman Seminar course as a First-Year Leader for the School of Interdisciplinary Studies, conducts clinical research as a research associate in TEMRAP, and directly cares for geriatric patients as a volunteer at Three Oaks Hospice. Her most fulfilling experiences include serving the community either by playing piano for an elderly home or by translating Vietnamese for patients in local clinics. Alexus also enjoys spending time with family and friends, listening to BTS, crafting clay art, and creating handmade jewelry pieces. JAMP has been a life-changing gift in her life. She is grateful to be part of such a supportive, caring community that motivates her to pursue her dreams of a medical education, despite any obstacles.
Favorite Dessert: Tres Leches
Favorite Candy: M&M Minis
Favorite Color: Pastels
Passions: Raising Caramel (her hamster), and going on foodie adventures
Sofyan Othman
Sofyan Othman was born and raised in the country of Jordan. Sofyan is majoring in Biomedical Engineering with a pre-med track. He enjoys making films with friends, cooking new dishes, and going on adventurous ventures to broaden his experiences. Sofyan is also a shawarma connoisseur on the side. His favorite part of JAMP is the community it provides.
Favorite Dessert: McDonald's pie
Favorite Color: Navy
Passions: Space exploration and travel, star gazing with telescope and sharing discoveries with friends
Senior JAMPers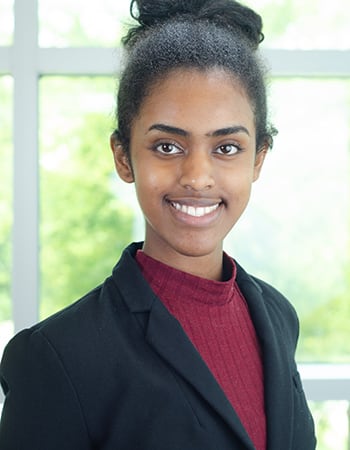 Kidus Dube
Kidus Dube is a junior majoring in Biology. Although she was born in Ethiopia, she has lived in Dallas for most of her life. She is a part of Molding Doctors and the UTD Taekwondo Club. Since she has a love for learning new things, her hobbies include reading and watching documentaries. She is the oldest of five so watching documentaries usually entails enjoying them with her siblings. What she loves about being a JAMPer is that she gets to be part of a community that provides support and can better understand where she comes from. She is assured in knowing that she will always have this support throughout her journey to becoming a physician.
Josue Fonseca
Josue Fonseca is a junior majoring in Healthcare Studies from Houston, Texas. He is involved with the Terry Scholars Student Organization, a Delelgado for the Center for U.S. Latin American Studies, and a Peer Advisor for University Housing. He loves to go on hikes, socialize with friends, and eat really good food. His favorite part about being a JAMPer is the community of like-minded students to lean on when he needs to. Being able to connect with people who have gone through the medical school application process is invaluable!
Jeanette Cardoso
Jeanette Cardoso was born and raised in Dallas and is currently majoring in Healthcare Studies. She is currently spending one day a week translating and helping with pap smears at a free clinic and another day assisting at a pediatric clinic. She enjoys cooking, baking, and eating sushi rolls & tacos. Her favorite part about JAMP is the huge, tight-knit community she has been able to form with other fellow JAMPers all over the state. She also has a great appreciation for all the structured resources for MCAT and medical school that are made available to recipients of the program. An interesting fact about Jeanette is that she also dabbles in embroidery and bonsai care in her free time.
JAMP Alumni